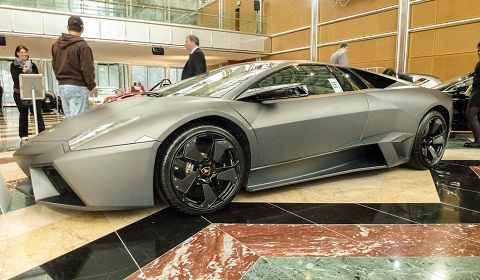 Last week, Motor Expo 2012 took place at Canary Wharf in London. Billed as the biggest free to visit motoring event, Motor Expo is now in its sixteenth year. It's designed to allow office workers a chance to see new cars without taking time off work.
While Motorexpo is still a small motor show, plenty of manufacturers managed to bring cars. Among the displays, Bentley presented the new Continental GT V8 models, BMW presented the Gran Coupe and the BMW M5 M Performance Edition and UK tuning firm Richter presented the ABT R8 GTS.
There were displays too from Aston Martin, Chrysler, Ferrari, Jaguar, Jeep, Kia, Lamborghini, Land Rover, Lexus, Maserati, McLaren, Mercedes-Benz, MINI, Nissan and Rolls Royce. In addition, test drives were on offer thanks to HR Owen. The cars available for test drive included the Aston Martin Rapide, the Aston Martin V8 Vantage, Maserati GranTurismo and the Lamborghini LP560-4.
H & H held an auction to coincide with the event. Many of the cars were on display including the Lamborghini Reventon we reported on a while ago. London Motor Museum also brought their Challenger SRT8 fitted with Asanti rims and their Cadillac Escalade limousine.
Motorexpo is being held in Toronto next week and New York in mid-September. It's recommended if you are working around the area. If you aren't, you might find it a bit busy and less worthwhile. Overall, its not going to replace the London Motor Show, Goodwood does a better job of that, however, office workers will enjoy looking around during the day.