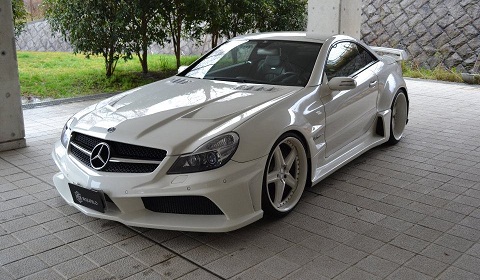 Vitt Performance already presented a range of body enhancements under their Squalo range. One of their latest is based on the R230 Mercedes-Benz SL55 AMG. The Vitt Performance Squalo Mercedes-Benz SL55 AMG gets a widebody kit with elements taken from the SL65 AMG Black Series.
Among the parts included in the package are a new front bumper, a new front fender, side skirt, rear fender, rear bumper, Black Series-style bonnet and a new rear wing. All parts are finished in a choice of either FPR or carbon fiber. Extras can be ordered including a new exhaust kit, interior parts and a brake system.
The price for the parts is 2,205,000 yen (22,039 euros) for the carbon fiber body panels or 1,942,500 yen (19,415 euros) for the FPR panels. Outside of Japan, Vitt Performance products are distributed by Jonari in the US and at Vitt's Bangkok shop. Availability in Europe will depend on what Jonari or Vitt Performance can arrange.