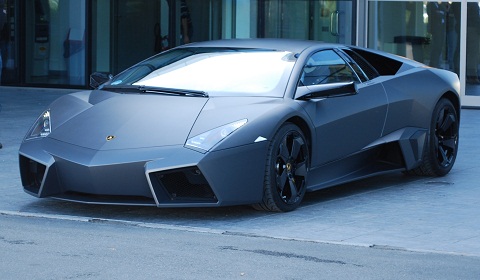 It seems the only Lamborghini Reventon delivered to England will be auctioned by H&H Classics at the London MotorExpo in June. This particular car has been for sale ever since the previous owner took delivery of a Lamborghini Reventon Roadster. It was first offered for sale by Specialist Cars of Malton, then it moved to Lamborghini London, more recently it had been with SuperVettura in Surrey.
The Lamborghini Reventon debuted at the 2007 Frankfurt Motor Show. It is the most expensive Lamborghini to date costing around € 1 million (£ 840,000) when new. Twenty customer cars were produced with an extra car delivered to the Lamborghini Museum. Almost all the mechanical elements were taken from the Lamborghini LP640. The exterior featured a new paint colour exclusive to the Reventons and all-new carbon fiber bodywork. All Reventons got a 6.5 liter V12 engine producing 650bhp.
It's car number 18 out of the 20. The auctioneer has placed an expected value of over £ 1 million on the car which seems a bit high to us. There are three other cars on the market at the moment, one in Canada and two in the United Arab Emirates. The new owner will join car collector Ken Lingenfelter and Chechen president Ramzan Kadyrov as a Lamborghini Reventon owner!