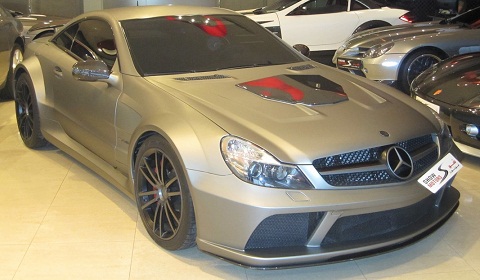 Show Motors in Dubai recently listed the one-off Brabus Vanish for sale. The Vanish was built for a special customer in Dubai on top of a Mercedes-Benz SL65 AMG Black Series. The car appears to be in perfect condition with 8,754km on the clock. The car features a matte grey exterior with a black alcantara interior and accented red stitching.
The Vanish – named by the customer himself – features an upgraded gearbox, bigger brakes and bigger turbos that increase the total power output up to 800bhp. It has also had its catalysts removed, resulting in a louder sound produced from the stock exhaust system. The exterior has been modified with a carbon fiber bonnet. The brake calipers have Vanish written on them, same goes for the door sills.
The matte grey exterior is a wrap which hides the original Pearl White paintwork. Brabus did produce a second tuned Mercedes-Benz SL65 AMG Black Series in the form of the Brabus Stealth. This car featured a white exterior and almost identical upgrades to the Vanish. The listing does not disclose a price.