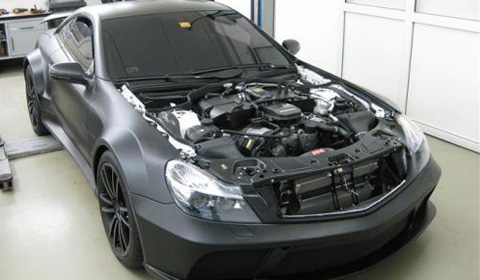 The Brabus Vanish is a one-off creation made by the German tuner for a Dubai customer, based on his Mercedes-Benz SL65 AMG Black Series. The Vanish – named by the customer himself – features a upgraded gearbox, bigger brakes and bigger turbos that increase the total output up to 800bhp. It also had its catylists removed, resulting in a louder sound produced from the stock exhaust system.
The interior and exterior has also been modified to the owners specifications, with all the interior stitching now being red and featuring Brabus logos. The exterior has been modified with a carbon fiber bonnet. The brake calipers have Vanish written on them, same goes for the door sills.
The car was originally Pearl White and has been finished off with a Matte Black wrap.
[Via Pistonheads]