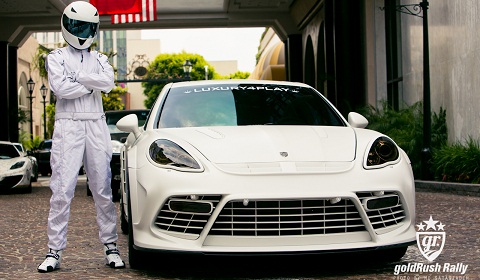 The first set of official GoldRush Rally 4 pictures hit our mailbox this morning, allowing us to share with you a unique perspective from inside the 2012 rally.
Among the first participants to get to the Beverly Wilshire was the legendary Mansory Renntech SLR, while the GoldRush 4 staff were hard at work setting up the registration room and laying out the GoldRush freebies. Other participants to get in early include Canadian GoldRush returnees expoze.tv who you'll see posing in front of the Rolls-Royce.
By the next day, the garages were starting to fill. You'll notice that the first leg of the rally attracted some pretty impressive cars. A matte white Mansory Panamera for example, the Tron Camaro, a Maybach 62 and a Mercedes-Benz CLS 63 AMG from Abu Dhabi! The cars were stickered up with vinyl decals by Vinyl Styles.
This year, GoldRush Rally 4 will be split into two stages with a flight in between to take the cars from west to east coast. The rally started from the Beverly Wilshire and will take in two west coast stops in Scottsdale and Las Vegas. The cars will then be loaded onto a plane and flown out to Atlanta to start the east coast leg. This will take in stops at Panama City, Orlando and Miami!
Finally, if you want more details on the rally, it's destinations, the hotels, the teams facebook pages, then please visit our Essential Guide to GoldRush Rally 4 – Rise Against the Sun. Hopefully we'll have more to share with you soon! Pictures by Mo Satarzadeh.