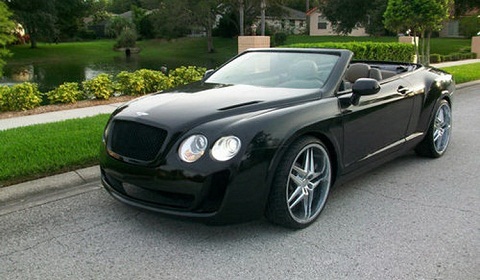 Today we have another entry to place in our (well-populated) overkill category. This time it appears that a 2003 Chrysler Sebring Convertible has undergone cosmetic surgery in an attempt to make it look like a 2012 Bentley Continental Supersports Convertible. The result is available on Ebay for all to purchase. While the exterior looks promising, the owner seems to have neglected the interior entirely!
The advert reveals little about how the body work cam about, however, we are told that the build features real Bentley lights, emblems and exhaust tips. Aside from that, all other running gear has been left stock. It's when you start looking at the interior that it all goes wrong. The owner clearly lost all interest in trying to emulate a Bentley interior, leaving the ripped and stained seats untouched!
Underneath is a 2.7 liter V6 coupled to an automatic transmission. The battery has been moved to the rear of the vehicle and it also has a new set of Dub 22 inch chrome wheels with brand new tires. At the moment it has 20 bids with the current being $21,100. It's located in Florida, let us know what you think!
[Via Carscoop]