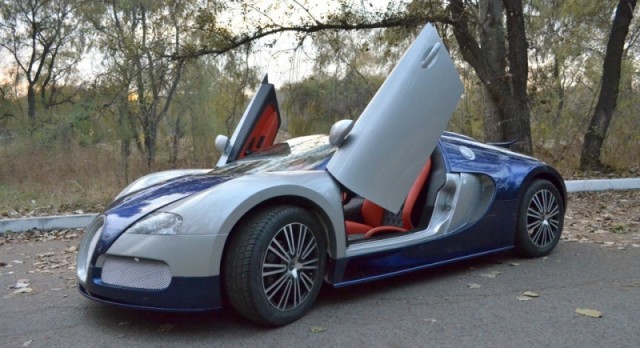 Whenever a supercar is revealed, there's a good chance that someone, somewhere will create a replica. As the world's fastest production car (in Super Sport guise), the Bugatti Veyron is a favourite among replica car manufacturer's and the following example is just the latest.
The following Veyron replica comes from the Netherlands and incredibly, cost the man behind the project, 40,000 euros to create!
Considering we don't speak Russian (in reference to the video above), it is hard to get full details about the car including whether or not it has been based and built off another car or if it is a ground-up car. Whatever the case, it is an okay Veyron replica but as is typically the case, the proportions are horrendously out from the real thing and it is far more suited for kids than full grown adults. What's more, it also features Lamborghini inspired scissor doors!
[Via hartvoorautos.nl]