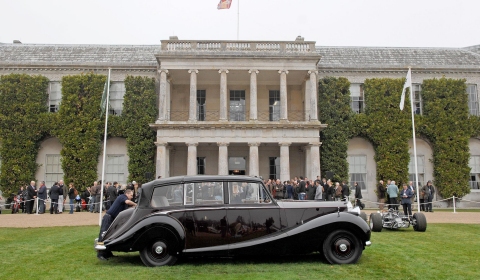 The Cartier Style et Luxe vehicle concours d'elegance display is back for the 18th consecutive year at the Goodwood Festival of Speed and Moving Motor Show (28 June – 1 July) this year. For the first time ever, Cartier will focus on just one set of vehicles. You can check last year's display below in the gallery.
As a mark of respect to Her Majesty Queen Elizabeth II for her Diamond Jubilee, Goodwood and Cartier will gather together a selection of vehicles all personally owned or used by Her Majesty. These vehicles have never been seen in public together as a collection. Many vehicles will come from the personal collections of Her Majesty, including Sandringham and the Royal Mews. Others will be sourced from overseas governments and private collections, and all will have a genuine use and connection with The Queen.
The concours will be divided into five classes, including state limousines and carriages, official overseas state visit transport, working cars, personal family cars, plus toy cars owned by the Royal Household.
Models on display will be Her Majesty's 1961 Rolls-Royce Phantom V, modified specifically to fit on The Royal Yacht Britannia, a 1929 Daimler Double Six 30hp Brougham and a 1920 carriage from the Royal train. You will also see a Chapron-bodied Citroen SM Decapotable, a special 1950 Lincoln Cosmopolitan 'bubble top,' plus a Humber Super Snipe used for Her Majesty's first Commonwealth Tour.
Working cars are set to include a coachbuilt 1956 Ford Zephyr Estate, and a 1961 Vauxhall Cresta Friary Estate, used to transport Her Majesty's corgi dogs. Personal cars will include a Rover P5 and Daimler Double Six and Prince Philip's 1961 Alvis TD21. Other vehicles also displayed are a 1928 Citroen C4 presented to The Queen, plus an Austin J40 pedal car and 1966 Aston Martin DB5 007-replica pedal car.
On the Saturday and Sunday of the Festival of Speed, a number of Her Majesty's cars will briefly move from the Cartier Lawn and slowly parade along the Goodwood hillclimb for a special Diamond Jubilee tribute to Her Majesty The Queen.