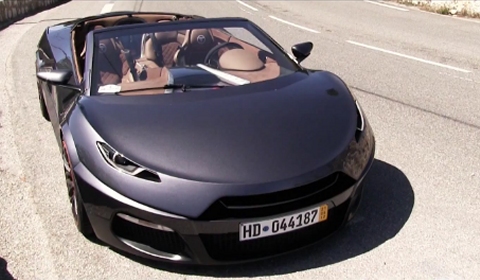 At Top Marques Monaco we gave our Swedish friend Felix the opportunity to film the unique Savage Rivale Roadyacht GTS in the hills close to the principaute du Monaco. He finished the final footage over the past few days and shared it on YouTube today.
The Savage Rivale Roadyacht GTS is powered by a 6.2 litre LS9 V8 provided by GM. Savage fitted a supercharger which boosts power to 670hp together with 730 Nm of torque. The engine runs on a four-speed automatic clutch. All this power results in a 206 mph (330 kmh) topspeed and a sprint from standstill to 62 mph (100 kmh) in just 4.1 seconds.
By way of a few extra details, the Savage Rivale Roadyacht GTS features 4 suicide wing-doors. The body parts are manufactured from carbon fibre and everything inside the car is controlled by touch-screen. As if this wasn't exclusive enough, you can open the doors by using a limited edition watch, delivered together with the car. The price is set at approximately 275,000 euros. Savage aim to sell between 10 and 15 examples.