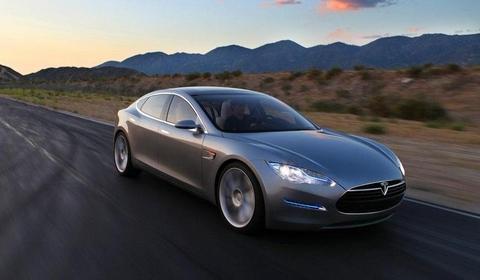 Tesla CEO Elon Musk has revealed his intentions to launch the Model S ahead of its initial schedule. The new full electric model will be delivered to its first customers in June, one month ahead of schedule.
Tesla received up to 10,000 Model S reservations. At least 5,000 Model S' will be delivered to their new owner by the end of the year. Musk addressed his statement in a letter to all Tesla shareholders, which you can read below.
Just a reminder, the Model S will have three battery offerings designed to have a range of 160 miles / 257km, 230 miles / 370km or 300 miles / 483km on a full charge. The base 160-mile range Tesla Model S will start at $ 57,000, but thanks to a $ 7,500 tax credit the total price will be lowered to just $ 49,500. The 230-mile range Model S will add $ 10,000 to the base price while the range-topping 300-mile Model S adds $ 20,000.
Dear Fellow Shareholders,

We are pleased to report that we have nearly completed all regulatory approvals and certifications required to begin delivery of Model S to our customers in the United States. Thus, we anticipate that initial deliveries will begin in June, ahead of our announced schedule of July.

All aspects of the Model S program remain on track to commence deliveries in June. The Tesla Factory is producing vehicles at a steadily increasing rate, and so far this year we have built about 50 Beta and about 30 Release Candidate prototypes. All these vehicles are dedicated to a comprehensive testing program, including crash and safety testing, systems integration, reliability testing, and quality audits.

Model S has now been fully certified by the U.S. Environmental Protection Agency (EPA) and the State of California. We have also successfully completed almost all of the crash testing required under the National Traffic and Motor Vehicle Safety Act using our Release Candidate prototypes. Once we complete and document the tests, we will be able to sell our vehicles in the United States. This leaves us confident we can begin Model S customer deliveries in June, ahead of our announced schedule of July.

We expect the safety rating of Model S will be independently determined by the National Highway Traffic Safety Administration (NHTSA) and other groups. Under NHTSA's New Car Assessment Program Robotic Installation of Panoramic Roof(NCAP), selected cars are independently purchased and crash tested. NHTSA then assigns "star ratings" to tested cars using the NCAP standards. Based on our internal crash tests and consistent with these published standards, we believe Model S will achieve NHTSA's top, 5-star, rating. Compliance testing for global markets continues and will be announced as achieved.

Delivering the first few customer cars in June highlights the fact that Model S will be fully compliant and available for purchase in the U.S. These cars will carry customer, rather than manufacturer, license plates, signifying that they are fully homologated and completely street legal. We plan to continue making customer deliveries on a slow, methodical ramp, and remain confident in our target of 5,000 vehicle deliveries by year end.