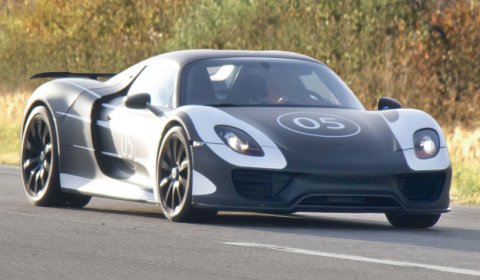 Spyshots of the Porsche 918 Spyder have been revealed showing a nearly finished car after its release as a concept on the 2010 Geneva Motor Show. The photos follow early test reports of a 918 spyder using the Nardo high-speed test track in southern Italy as its testing grounds.
The new photos show a clear difference with the concept, which was released in Geneva two years ago. The camera side mirrors have been replaced for conventional side mirrors, the side exhaust pipers are gone and there are new air-inlets right behind the front wheel. The exhaust pipes are visible on the top of the bodywork, just behind the rear seats.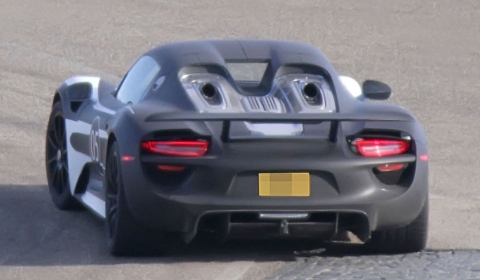 The Porsche 918 Spyder will get three powerplants. The first is a 4.6 liter V8 originally fitted to the three-time ALMS LMP2 Championship-winning RS Spyder. This will feature 570hp on its own and the exhaust outlets will exit in the middle of the engine block to reduce engine compartment heat. This will be coupled to an 80 kW lithium-ion electric motor powering the two front wheels. In total, this means 770hp, with 553 pound-feet of torque available across the rev range. There is a second electric engine at the back.
That means 0-100km/h times will be less than three seconds, 0-200km/h times in less than nine seconds and a top speed of 325km/h. You should be able to hit 145km/h without needing to use the 918 Spyder's petrol engine. Powering up the power pack will take around six hours on a 110 volt power supply, a Porsche supplied quick charger will see that cut to just two hours though. Wired mention the development of an even more advanced system that could do the job in just 20 minutes too!
The deadline for the Porsche 918 Spyder production version debut is scheduled in november 2013. It will carry a price tag of a € 750,000. For more information on the new 918 Spyder click here.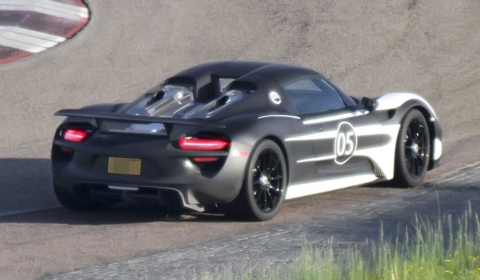 [Via Wild-speed]