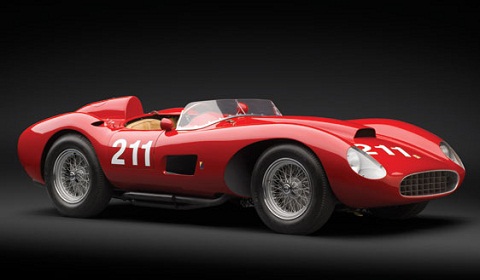 Over the weekend, Monaco played host to one of the biggest historic car sales of the year. RM Auctions sold 22 classic Ferrari's over the course of two days for a combined total of $ 41.8 million. The healine lot was a Ferrari 625 TRC Spider which sold for a total figure of 5 million euros ($ 6.5 million) including fees to an anonymous telephone bidder. 94 cars went through the auction hall over the weekend at the same time as the Grand Prix de Monaco Historique 2012.
The 1957 Ferrari 625 TRC Spider, one of the two built, chassis number 0680 MDTR. The car was purchased in 1957 by famed racer and automotive businessman John von Neumann, a founding member of the California Sports Car Club and official West Coast U.S. Ferrari distributor. It scored two victories and three podiums under his ownership. At the 25th Monterey Historic Races it won the Chopard Award for Presentation and Performance. It features a 2.5 liter four-cylinder engine.
Other results included an ex-works Formula 1 car that had been raced by Michael Schumacher in the 2000 Austrian Grand Prix which went for 806,400 euros and a Ferrari 375 MM Spider which failed to reach its 3.3 million euro lower estimate. A 1966 Ferrari 206 S Dino Spyder and a 225 Sport Spyder "Tuboscocca" both raised 2.5 million euros. It is the second year RM Auctions have held the event. It's likely it will be back next year too considering the success!