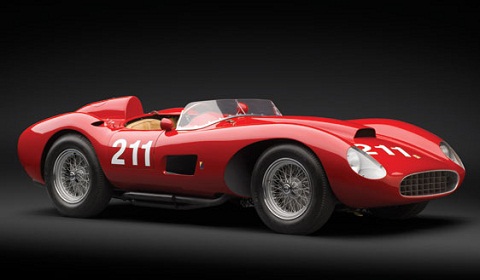 RM Auctions have announced a number of interesting forthcoming Ferrari models for their Monaco sale at the Grimaldi Forum. It takes place two weeks before the start of the annual Monaco Grand Prix on the 11th and 12th of May. In total 22 Ferrari's will be offered. These include a 1957 Ferrari 625 TRC Spider, a 1966 Ferrari 206 S Dino Spyder, a 1953 Ferrari 375 MM Spider and an ex-Schumacher 2000 Ferrari F1-2000 racing car.
The 1957 Ferrari 625 TRC Spider, one of the two built, chassis number 0680 MDTR. The car was purchased in 1957 by famed racer and automotive businessman John von Neumann, a founding member of the California Sports Car Club and official West Coast U.S. Ferrari distributor. It scored two victories and three podiums under his ownership. At the 25th Monterey Historic Races it won the Chopard Award for Presentation and Performance. It features a 2.5 liter four cylinder engine.
The 1966 Ferrari 206 S Dino Spyder is chassis number 006, a red and white example. It is the third 206 S of eighteen built. Originally purchased by Maranello Concessionaires of Surrey, England it won a first in class at the British Grand Prix meeting at Brands Hatch. Today it has a Swedish onwner. It is Ferrari Classiche certified and ready for vintage racing competition or premium concours exhibition. The price estimate is between € 2,200,000 and € 2,800,000.
The third racer on the roster is a 1953 Ferrari 375 MM Spider, chassis 0362 AM / 0374 AM. It was the first 375 MM Spider to be delivered, it went to an Argentinian owner. It enjoyed enjoyed 18 podium finishes, including 11 wins and two back-to-back national Argentine Sport Car Championships in 1954 and 1955, respectively. It's estimate is between € 3,300,000 and € 4,100,000.
Other Ferrari's on sale include a 1952 Ferrari 225 Sport Spyder, a 2006 Ferrari FXX Evoluzione chassis 145766, a 1987 Ferrari F40 Protoype/GT, a 1955 Ferrari 250 GT Europa and a 1949 Ferrari 166 Inter Coupé.