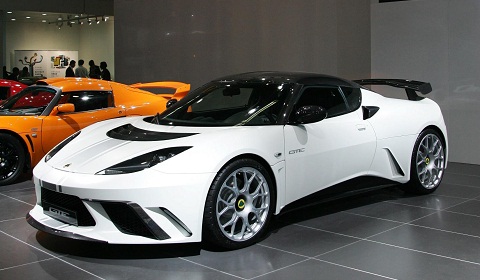 We're not convinced that Lotus has actually delivered a Lotus Evora GTE yet. The extreme Lotus Evora model made its debut last year at Pebble Beach, since then we've seen the Lotus Evora GTE by Swizz Beats, the Lotus Evora GTE Formula 1 Edition and the Lotus Evora GTE Carbon Edition despite not seeing a single Lotus Evora GTE on the streets! The latest news out of Hethel, via China and the Beijing Motor Show, is that Lotus will produce 118 copies of a new Lotus Evora GTE China Limited Edition for the Chinese market.
One of the key features of the car is suspension adjustments to optimise the ride for Chinese roads. The cars will get plenty of carbon fiber and leather to make a more comfortable interior. An individual identification plaque will show which car out of the 118 is yours. Lotus says that it originally designated 25 cars for the market but received over 100 orders within days of the Evora GTE's announcement.
The Lotus Evora GTE China Limited Edition otherwise features the same specs as the standard version. The Lotus Evora GTE is the most powerful production Lotus road car ever built producing over 444hp from the 3.5 liter V6 Lotus Evora engine. The GTE has a sequential AMT (Automated Manual Transmission) racing gearbox and lightweight and forged alloy rims with center lock hubs shod with Pirelli P-Zero Corsa tyres.
As you would expect, there's no word on deliveries, either for the standard Lotus Evora GTE or the new Lotus Evora GTE China Limited Edition. This is of course the second special edition GTE for Asia, the Carbon Edition will be headed to Asia, although no specifics have been mentioned. We like the Lotus Evora GTE, but the fact that there's four special editions of a car that hasn't reached production normally just adds fuel to the Rumours surrounding Lotus.