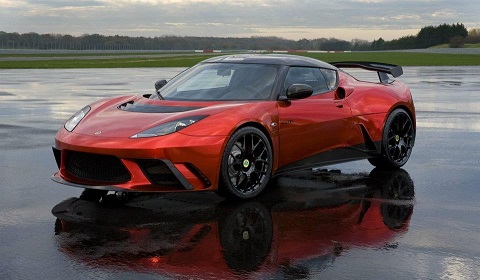 Lotus and Swizz Beats have unveiled a new special edition Lotus Evora GTE. The special edition Chrome Lotus Evora GTE went on display at the IAC Building last Wednesday at a star-studded event. Lotus CEO Dany Bahar took the wraps off the red chrome supercar.
When you get over the Lotus PR hype and actually look at what has changed, it's a bit disappointing. There isn't really that much to talk about. The Evora GTE gets a chrome colour for the body work, which is most likely a wrap. Aside from this, no other changes have been made.
The Evora GTE is the most powerful production Lotus road car ever built producing over 444hp from a 3.5 liter V6. Aside from the new bodykit, the GTE has a sequential AMT (Automated Manual Transmission) racing gearbox and lightweight forged alloy rims with center lock hubs and Pirelli P-Zero Corsa tyres.
Amongst the celebrities present where Alicia Keys, Russell Simmons, Carmelo Anthony, Patricia Field, Jessica White, Melyssa Ford, Kid Capri, Wynter Gordon, Stephen Baldwin, Andy Hilfiger and Verse Simmonds.
Pricing and availability for the Evora GTE is unknown for the moment, however, when it goes on sale, expect it to cost over £100,000.