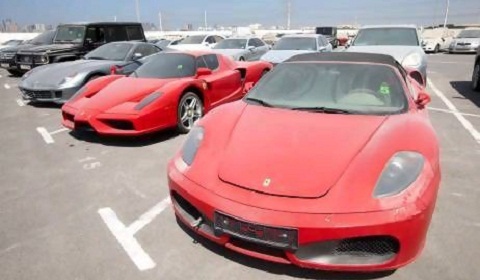 It seems the abandoned Ferrari Enzo we reported on earlier in the week was not part of yesterday's auction in in Al Quasis, Dubai. Many had expected to see the Ferrari Enzo hit the auction blocks alongside 127 other vehicles that had been abandoned in Dubai over the years. Instead, all they got to see was a lonely Aston Martin alongside more regular Japanese cars.
News had spread over the past week that the abandoned Ferrari Enzo hypercar would hit the blocks after sitting in a police compound since June 2011. However, it was never listed on the official auction list. Brig Al Matrooshi, deputy director of transport and rescue at the general department of operations at Dubai Police explained that the Enzo was still part of a court case and only after the case was settled would the car be released to the police.
Abandoned Supercars in UAE

It seems that Interpol still have jurisdiction over this and a few other Ferrari's being held by the Dubai police. Rumours surrounding this particular Ferrari Enzo have been widespread, we've even read elsewhere that the car is being held as it was stolen from Russia!
It seems Dubai authorities won't have a problem when it comes to selling the car though. They received offers of up to 6 million dihram, 537,000 euros at todays exchange rate. The 127 cars that did go through the auction process got sold as a bulk lot to Essam Mohammed Sobhi of RPM Workshop in Al Quasis for the bargain price of 1.35 million dihram.