Acura will be displaying three new debuts over the next couple of weeks at the 2012 Detroit Motor Show. We're only interested in one of those though; the new NSX Concept. It's been released now so we've got full details. We can tell you that it will make production and it is to be developed and built in America with a new performance hybrid system.
The next-generation NSX will feature Acura's new Sport Hybrid SH-AWD technology, developed by Honda R&D Americas and manufactured in Ohio. This makes use of a unique twin electric motor drive unit with a bilateral torque adjustable control system. This is twinned with a powerful next-generation VTEC V6 engine with direct-injection and a dual clutch transmission. The four-wheel-drive system can instantly generate negative or positive torque to the front wheels during cornering for handling performance unmatched by previous AWD systems.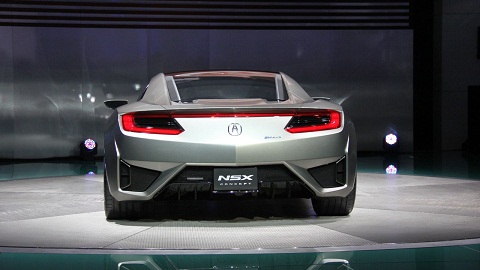 Styling resembles a coupe version of the Acura we saw Robert Downey, Jr driving on the streets of New York. The mid-engined supercar looks to be of the same proportions as the Audi R8. It has a sleek, clean and uncluttered design.
The best news is that Honda reckon the new NSX is only three years away. Hopefully it will take the fight to the Nissan GTR.
Takanobu Ito, president and CEO of Honda Motor Co., Ltd said:
This Sport Hybrid SH-AWD system will make NSX the ultimate expression of Acura's idea to create synergy between man and machine. The NSX will make the driver one with the car to enhance dynamic driving abilities without getting in the way.

Like the first NSX, we will again express high performance through engineering efficiency. In this new era, even as we focus on the fun to drive spirit of the NSX, I think a supercar must respond positively to environmental responsibilities.
The pictures come from Jalopnik who are covering all the new releases at the Detroit Motor Show 2012.