Lexus has officially unveiled the Lexus LF-LC concept at the 2012 Detroit Motor Show. It's a design study created by the company's Calty design studio in Newport Beach, California to explore the future design language of Lexus models.
The spindle grille is said to be a particularly important part of the design. It functions as the air intake, manufactured in a 3D sculpture-look aluminium. A set of L-shaped daytime running lights and a dot matrix fog light are also noticeable features of the front end design.
The bodywork of the LF-LC resembles a longer, curvier version of the LFA with increased passenger space. The concept car gets a panoramic glass roof featuring a lightweight cantilevered pillar for structural rigidity. The tail lamps are inspired by the look of a jet afterburner at take-off. They are internally lit to create a sense of depth. Rear fading dot matrix fog lights and al Lexus quad exhaust finish off the exterior.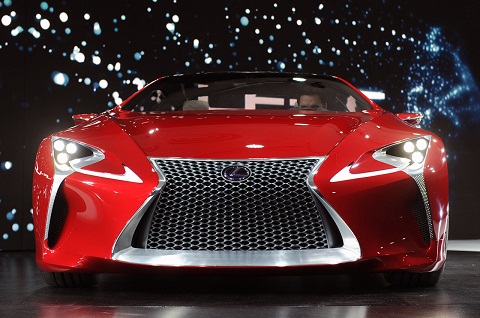 The interior of the LF-LC features deeply scooped side panels and a high, curved console. The effect is to focus the driver zone on the controls and on the road. The LF-LC incorporates a remote touch-screen device that allows the driver to comfortably operate controls without shifting position or altering line-of-sight. This means there are twin 12.3-inch LCD screens to provide information and navigation display. A touch-screen control board is used to control the audio system, climate controls and navigation. Similar touch-screen surfaces on each door operate the windows, mirrors, seat adjustments and personal entertainment settings.
Surfaces throughout the cabin are covered in a combination of smooth leather and suede, with brushed metal trim and wood accents.
If you're wondering why we haven't spoken about the engine technology yet, this is because Lexus left it until the end of their press release. They state: "the front-engine, rear-wheel drive LF-LC features Advanced Lexus Hybrid Drive, delivering both driving performance and fuel efficiency." So we don't really know anything about what's under the bonnet!
Mark Templin, Lexus group vice president and general manager said:
The concept we're showing here in Detroit continues the Lexus design revolution started with the CT and GS. The concept hybrid 2+2 liberates the idea of a sport coupe and pushes the boundaries of performance, style and technology.
Kevin Hunter, president of Calty said:
Our entire studio worked to develop this beautiful interpretation of Lexus originality. The LF-LC concept embodies our vision of what a premium sport coupe could be.
Autoblog are reporting from the show at the moment. We have them to thank for the live photos.