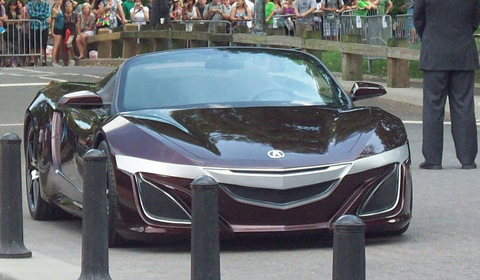 We've done a little digging since earlier on and we can confirm that the Audi R8 in the Iron Man film is actually an Acura concept of some description in the Avengers film. It's due to be released in 2012 and we're sure Acura will release information on the car soon. In the mean time, enjoy this better picture we've included!
Update 1: To Autoblog.com, Acura's Gary Robinson said the following:
As you may know, Acura has been in the Marvel Comics Universe films as the official car of their fictional law enforcement agency called S.H.I.E.L.D. That relationship continues for The Avengers. The open-top sports car that was photographed yesterday is a one-off, fictional car that was made just for the movie and will not be produced. That said, as you may also know, our CEO has said publicly that we are studying the development of a new sports car, but we can't say any more about it at this time.
Mr. Robinson also said that he's unable to tell Autoblog.com any specifics about the use of the car in the film beyond what's suggested in the photos, and that Acura itself won't know the full extent of the car's appearance in The Avengers until the film's release next spring.
Update 2: More pictures via numerous sources were uploaded in one single gallery. The pictures show more of the concept and even the rear of the sports car!