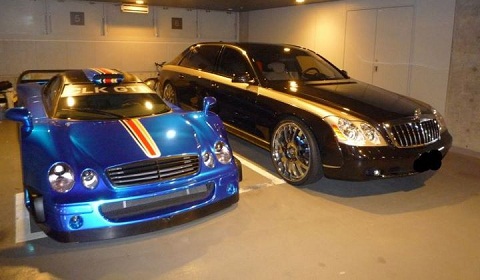 Luxury4Play recently introduced us to a private supercar collection in Japan. As their Garage of the Month for December, they featured this stunning collection in Japan. The garage features some of the most desirable Italian exotics from brands such as Ferrari, Lamborghini and Maserati. It's so big, we've decided to split it over two posts!
We've taken a small cut of the photos from the 200 odd that appear on the Luxury4Play forum. For the full set, you'll have to head over to their forums. Originally, these galleries contained over 500 photos of the cars. However, forum admin Aimee had to cut them down to a bandwidth-friendly 200. Very few details of the rest of the garage contents were revealed, but we'll give you a summary of some of the key cars from the galleries lower down.
In the above gallery you'll spot a Mercedes-Benz CLK GTR, a homologated racer, built to compete in the FIA GT Championship series in 1997. This example, a left-hand drive road car, is one of 25 CLK GTR's to leave, the factory, the original car remained in the hands of Mercedes. This example recently received a chrome-blue and carbon fibre wrap. The CLK GTR occasionally sits next to a Maybach 57 Zeppelin, a special edition Maybach model a limited edition of just 100 worldwide, although we're sure a lot less were actually delivered. You'll notice that two different sets of wheels are used in two different pictures. We think this is due to the car receiving a change of rims between when the two photos were taken.
The next car is a Ferrari 288 GTO, a car that needs little introduction. Built on the platform of the Ferrari 308, the Gran Turismo Omologata is almost a completely different car due to the level of changes. Next we have a Wald International Phantom Black Bison Edition. You can read more about that here. The owner also owns a Ferrari F50. His Ferrari F40 GTE has received the same colour wrap as the Mercedes. The GTE is the very pinnacle of the F40 racers, we think this is a GTE because of it's fender vents which were more extreme than the LM. The McLaren SLR 722S looks benign next to the F40. The owners Bentley, tuned by Mansory, has received a carbon-effect wrap too.
The final cars are the Mercedes-Benz SL Black Series; still brand new, with the factory wrappers still protecting the interior! A modest chromed Mercedes SL, a tuned Mercedes S-Class, a brand new Audi R8 GT and a McLaren SLR 722 with another chrome-blue wrap.