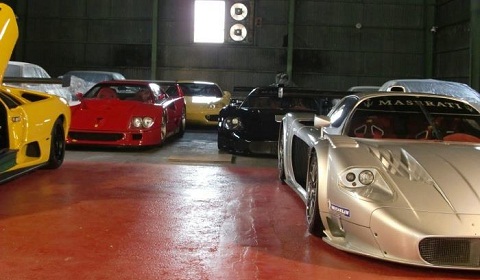 The second post featuring the private supercar collection in Japan contains even more exotics than the first! Our post earlier today detailed a small selection of exotics and daily drivers. This post explores the more serious collector's toys!
The gallery below details some of the collectors Lamborghini, Ferrari and Maserati collection. We understand that all these cars are owned by one collector. The gallery also includes a number of Rolls-Royce, Bentley, Aston Martin and Porsche models. Once again thanks to Luxury4Play for the galleries, information on the cars is provided below.
So in the gallery above you'll see a Lamborghini SE30 Jota, limited to just twelve models out of the total 150 car SE run. We know that at least one of those Jota's has been lost to an accident and one received a de-tune to standard SE spec, yet retained the bodywork. That makes this car very rare indeed. The Jota received an extra 50hp over the SE model thanks to a reprogramming of the LIE electronic injection system. Next to that is a Ferrari, however, we're not sure of the model, can you guess it?
The collector also owns a yellow Ferrari F50, to park alongside the other F40's he owns. His Ferrari 612 appears to have received a black and blue theme. The Ferrari badge has been coloured black as well as the headlights and the rear lights. Next is the Ferrari 430 16M, a car that needs no explaining here. To match the 16M, is a white Ferrari 360 Challenge Stradale and a white Ferrari 458 GT, without the rear wing. There's also a set of Rolls-Royce Phantom Dropheads, a Bentley Continental Flying Spur and a Porsche Panamera as well as a classic drop-top Rolls-Royce.
If you thought we were rushing with the last explanations, this is the reason why! You'll see from the photos that this collector also has an enviable collection of race cars. You'll notice the two Maserati MC12 Corsa's. Only twelve of these were sold to customers. They were developed from the MC12 GT1 in a similar fashion to the Ferrari FXX, however, customers retained ownership of the cars from day one. They produce over 745hp. You'll also notice the Ferrari F40 LM, which joins the F40 GTE. An Aston Martin Lagonda is recognisable. Another Lamborghini Diablo Jota can be seen as well as a Lamborghini Diablo GTR. Finally, a Lamborghini Countach is also visible.
Let us know what you think of this extensive collection!