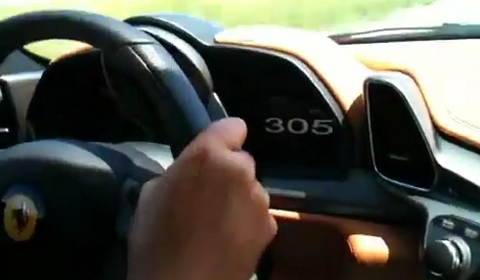 Following our post about the Belgium driver doing 293km/h in his Aston Martin V12 Vantage Carbon Black, we can now show you three more videos of a Ferrari 458 Italia being driven in Mérida, Mexico. The Mexican owner of the 458 hits 305km/h with his prancing horse and shows his friends the capabilities of the Italian sports car.
The first video shows a clip made from within the sports car while the driver and his passenger hit 305km/h on a local four-lane highway.
The second video shows two men filming the car from within a chasing camera car.
And finally, the third video shows some epic fly-bys, a high speed run up to 304km/h and some footage from within the chasing camera car.
Even in Mexico they can do it! There is no need to go to Belgium or Germany.