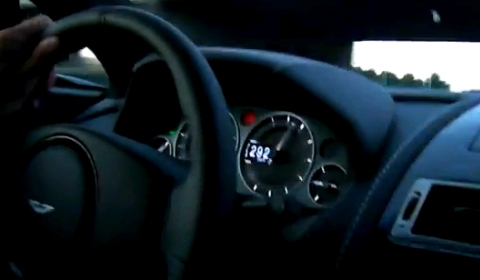 The owner of an Aston Martin V12 Vantage Carbon Black drove more than 290km/h on the E17 highway in Belgium, while being filmed. The video found its way to Youtube and shows the brand new Aston Martin V12 Vantage Carbon Black being run in.
Update: The video was removed by the YouTube user, but we received another video showing the same footage in a different setting. Belgium's main news bulletin reported on the event and showed most of the clip country-wide, including the music and an explanation.
The speed limit in Belgium is just 120km/h and breaking it, let alone putting a video of it online could give the driver / owner of the car some trouble with the law. The police are investigating the facts. It could cost the owner a fine of 2,750 Euros, five years of driving banishment and a potential car impound.
Especially, this last fact sounds really bad, because the owner picked up his Aston Martin after leaving it for half a year at the dealership. He tells his passenger in the video he just did not have the time to pick it up. Only three of these cars have been sold in Belgium so far.