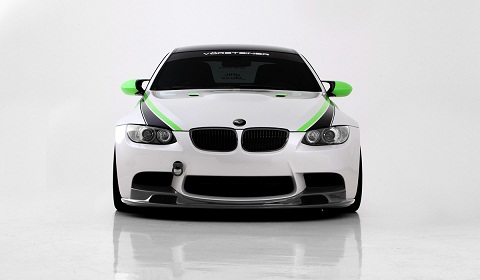 Vorsteiner released details of their new GTS-V Series modifications for the E92 BMW M3 through our friends over at Teamspeed. We've been big fans of Vorsteiner's E92 BMW M3 kits since we first heard about them back in 2008. It is refreshing for us to see that the basic formula has changed very little over the past three years. The GTS-V blends pure performance and track functionality into a subtle aerodynamic kit that enhances the look of the M3 at the same time.
The modifications consist of a newly designed front bolt-on spoiler with integrated brake cooling ducts and a newly formed rear diffuser to balance the front end, both built from the latest carbon fiber pre-preg autoclave.
The front spoiler retain the look of the VRS Series with quad air entries and a low carbon fiber spoiler which creates a fifth air flow through the front bumper. The lower of these entries can be fitted with a three-inch heat resistant flex-tube designed to channel air into the brakes for effective cooling. The factory standard plastic underbelly panel has also been replaced with a pre-preg carbon kevlar underbelly panel incorporated into the single-piece design of the bumper.
The rear diffuser uses a dual splitter construction that balances out the aesthetic proportions of the rear bumper. The function of the unit is to balance out the additional down force created by the redesigned front bumper. This is achieved through the addition of the central diffuser fins.
Overall, we think you'll agree that this is a very attractive package. The rest of the car is outfitted with various Vorsteiner upgrades and Ray's alloys. Let us know what you think using the comments box below.