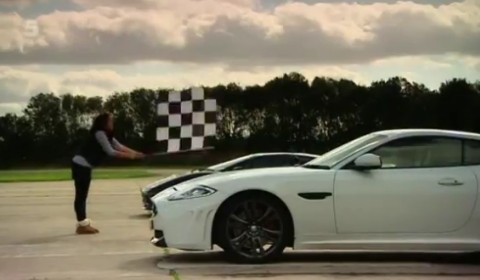 In the first episode of the new series of Fifth Gear, Tiff Needell tests the brand new 2012 Jaguar XKR-S next to the legendart Jaguar XJ220.
At its launch in 1992, the Jaguar XJ220 was one of the fastest supercars on the planet. On the contrary, the latest model in the XK-range, the 2012 Jaguar XKR-S, is powered by a supercharged V8 engine, which outputs 550hp and 680Nm of torque. This is 8hp more than the 3.5 liter twin-turbocharged V6 offers in the back of the supercar.
Tiff takes both for a drive and a lap around an airport circuit somewhere in the UK, and finds out who is the best.