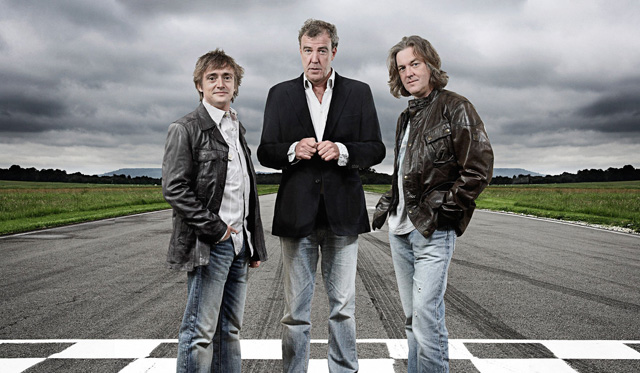 Top Gear Season 22 Episode 8 is set to air tonight in the UK on BBC 2 and BBC 2 HD at 8 pm. This episode will be the last ever to feature Jeremy Clarkson, Richard Hammond and James May before the motoring show is transformed and led by newly appointed host Chris Evans.
At the start of Top Gear Season 22, it was revealed that the season would consist of 10 episodes. However, due to Clarkson's fracas with one of the show's producers, the show was cut short after the seventh episode. It is believed that tonight's final episode will combine parts already filmed for the ninth and tenth episodes.
[youtube]https://www.youtube.com/watch?v=oe4uK53MPik[/youtube]
It has been confirmed that Top Gear Season 22 Episode 8 will consist of two films as well as live studio segments presented by Hammond and May. The first of the two films sees the trio purchasing and living with a Fiat 124 Spyder, Peugeot 304 Cabriolet and MGB GT. In typical Top Gear fashion, the three will be presented with a series of challenges throughout.
The second film will then feature Clarkson, Hammond and May purchasing three 4x4s for just 250 pounds each. Clarkson will pilot a Vauxhall Frontera, Hammond a Jeep Cherokee and May will drive a Mitsubishi Shogun Pinin. This film will also include a host of challenges include a battle with the Stig's Leisure Activity Cousin.
Further details about Top Gear Season 22 Episode 8 are unclear but it is speculated that it could be the most-viewed episode in the show's history. Some reports claim it could draw in 8.4 million UK viewers.