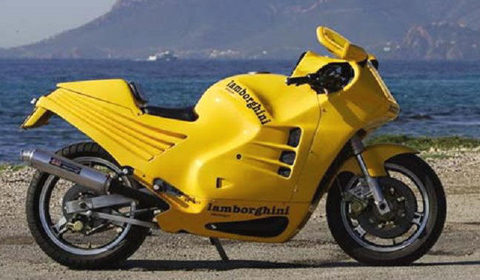 Lamborghini is known for its high-end sports cars, but it all began when Ferruccio Lamborghini started its business by building tractors. He also started a company bearing the name 'Lamborghini' specialized in oil heaters and air conditioning equipment. But did you know Lamborghini even built motorcycles?
Due to the oil crisis and financial difficulties in the seventies Ferruccio Lamborghini sold all of his shares in the automotive business. The Italian carmaker experienced many difficulties and was officially declared bankrupt in 1978. The Italian court took control until the Swiss Mimran brothers were appointed to administer the company during its receivership.
The Mimran brothers began a comprehensive restructuring program and injected large amounts of money. Finally the brothers were able to save the Italian Bull and officially owned the company in 1984. They reworked the failed Silhouette into the Jalpa and updated the Countach. The LM002 sport-utility vehicle was also introduced under Mimran ownership.
In search of expansion and diversity, one of the brothers, Patrick Mimran decided to use the Lamborghini name on other things beside cars. He started using the Lamborghini V12 engines for powerboats and his next idea was to offer a Lamborghini motorcycle. Therefore he joined forces with French racing bike specialist Boxer.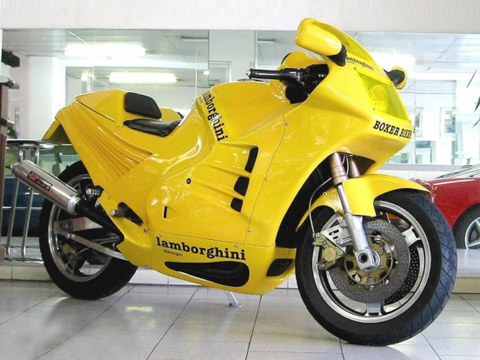 Initiated by the Swiss, designed by the Italians, engineered by the French and built from Japanese parts the Lamborghini Design 90 motorcycle was unveiled in 1986. The design of the bike's fiberglass aerodynamic bodywork was inspired by the 25th Anniversary Lamborghini Countach.
The Design 90 is powered by a 1000cc, 4-cam, 4 valve per cylinder straight-4 Kawasaki engine. This engine provides 130hp while the weight of the bike was only 170kg. This enabled the bike to achieve a top speed of 258km/h.
Because the bikes were priced at a whopping high price of about US $ 13,500, just about twice as much as the most expensive high-end bike then available, the Design 90 was not as successful as Lamborghini wished. About 25 units were scheduled for production, but the project was abandoned after only six bikes were built and it is believed only five have survived.
This remarkable piece of history and collectors item is offered at Jameslist. It could be yours for € 55,000.