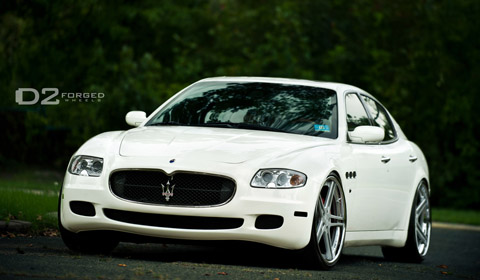 The Maserati Quattroporte is one of the most stylish cars available. American wheel tuner D2Forged has now presented a new package for the Italian executive luxury sedan.
The appearance of the Pininfarina-designed Quattroporte pictured here is enhanced with an unique D2Forged wheel set, which makes the car even more impressive. The Maserati is fitted with the typical deep concave forging CV3-LP (LitePack) wheels measuring for the front 22×9.0 and for the rear 22×10.5 inch. The weight of these wheels are 25lbs at the front and 27lbs at the rear, which equals approximately 12kg.
The D2Forged CV3-LP wheels consists of metallic silver center finish with hi-polished lip, finished with a ceramic clearcoat to ensure great looks and endurance. These wheels are available in a vast range of diameters and fitments to accommodate just about any vehicle.
For more information contact D2Forged.