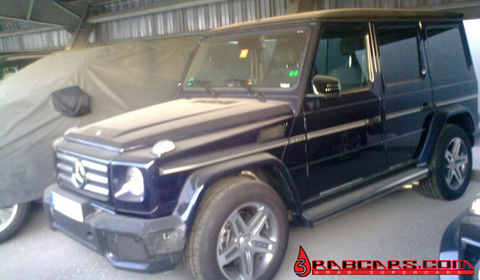 A few months ago we reported that Mercedes was working on a V12 powered top model of the G-Class. It now appears that the G65 AMG is almost ready to hit the markets as three G65's were spotted in Dubai.
The exterior of the spotted Mercedes G65 AMG is quite familiar, but is distinguished by an aggressive front bumper, larger air intakes, revised grille and new side mirrors. Inside, the cabin is significantly improved with a new instrument cluster with a 320 km/h speedometer, center stack and steering wheel. The revised center console has a new gear knob and a command controller.
The G65 AMG will be powered by a 6.0 liter bi-turbo V12 engine that develops 612 horsepower and 1,000Nm of torque. For comparison, the most powerful stock G-Class on the road, the G55 AMG has a 5.5 liter V8 with 507hp and 700Nm of torque.
This isn't the first time a V12 is used in the G-Class. Back in 2002, AMG built seven editions of the V12 powered G63 AMG with a maximum power of 444hp and a torque of 620Nm. This model was able to accelerate to 100km/h in 6.5 seconds while the top speed was limited at 210km/h.
The upcoming G65 AMG would be limited to 200 units and the price tag should be approximately € 250,000. The G65 AMG expected to be revealed at the upcoming Detroit Motor Show in January.
For more pictures click here.