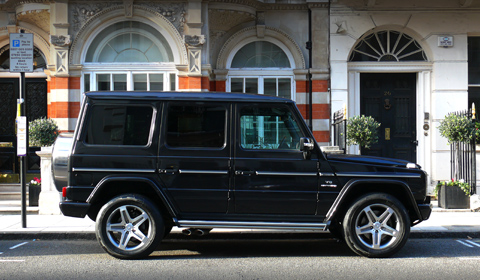 Once designed to be a rugged off-roader and a light military vehicle for the German Army, the Mercedes G-Class has become one of the most iconic luxury SUVs today. Nowadays one third of all G-Class vehicles sold are the G55 AMG model.
According to Dutch site Autoblog.nl, Mercedes is working on a exclusive top model of the G-Class. This limited edition G65 AMG will be powered by a 6.0 liter bi-turbo V12 engine that develops 612 horsepower and 1,000Nm of torque. For comparison, the most powerful stock G-Class on the road, the G55 AMG has a 5.5 liter V8 with 507hp and 700Nm of torque.
This isn't the first time a V12 is used in the G-Class. Back in 2002, AMG built seven editions of the V12 powered G63 AMG with a maximum power of 444hp and a torque of 620Nm. This model was able to accelerate to 100km/h in 6.5 seconds while the top speed was limited at 210km/h. Currently the only V12 powered G-Class is available via German tuner Brabus which offers the G V12 with a power up to 800 horsepower.
The upcoming G65 AMG would be limited to 200 units and pricing would start at € 220,000 ($ 312,200) before tax.
Although nothing has been officially confirmed by Mercedes, we hope this one would prove to be more than just a dream. What do you think, does the world need an even more powerful G-Class?