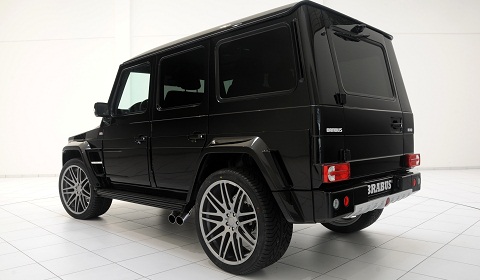 Building on last years G-Class offering, Brabus have unveiled the 800 Widestar; the worlds most powerful offroader. Powered by a V12 bi-turbo engine, the 800 Widestar features 800bhp, 23 inch rims and the Widestar bodykit seen on the previous G V12 S.
Under the bonnet, power is up to 800hp from 5,500rpm and a staggering 1,420Nm of torque from just 2,100rpm. Although torque has had to be limited to 1,100Nm, the Widestar is still capable of 0-100km/h in just 4.0 seconds and an electronically (and some would say dynamically) limited top speed of 240km/h.
Much the same treatment has been given to this car as was last years. A wide body kit, new set of wheels and a plush new interior are the key features. Brakes and suspension have also been strengthened out of necessity as has much of the internal workings of the engine (lifted from a current generation S600).
We'll have more photos from the show over the coming days.