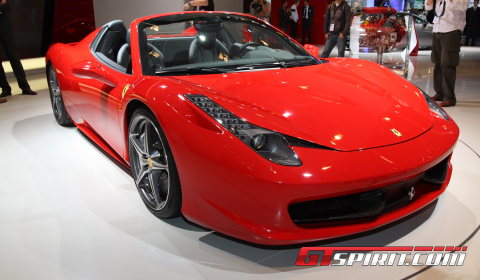 Ferrari has released pricing details on the 458 Spider. In Europe, the roofless 458 will swap owner for € 226,800 with sales beginning next month. In the US, the Spider is priced at $ 257,000 and goes on sale at the beginning of next year.
The open-top prancing horse is equipped with a Ferrari patented, fully retractable hard top, a world first for a sports car with this lay-out. The 458 Spider is powered by the same naturally-aspirated, direct-injection 4.5 liter V8 as the coupe. The power is transferred to the road by a dual-clutch F1 paddle-shift transmission through the E-Diff, itself integrated with the F1-Trac traction control and ABS.
The extra weight of 50kg adds a tenths to the 0-100km/h time, taking it to 3.4 seconds. Top speed drops from 325km/h to 320km/h being Ferrari's fastest-ever convertible. The hard-top solution offers a number of advantages over the traditional folding soft-top, including a reduction of 25kg in weight and a deployment time of just 14 seconds. Seeing the system live, gives a good idea on the setup and speed of the roof.
For more information on the 2012 Ferrari 458 Spider right here.