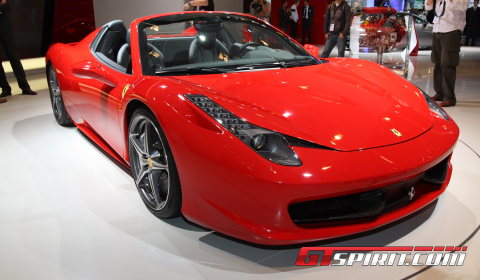 Italian car maker Ferrari has shown its latest family member, the 2012 Ferrari 458 Spider, to the world wide press at the IAA 2011 Frankfurt Motor Show today. We visited the Ferrari stand and had a closer look at the mid-rear engined V8 roadster.
The open-top prancing horse is equipped with a Ferrari patented, fully retractable hard top, a world first for a sports car with this lay-out. The 458 Spider is powered by the same naturally-aspirated, direct-injection 4.5 liter V8 as the coupe. The power is transferred to the road by a dual-clutch F1 paddle-shift transmission through the E-Diff, itself integrated with the F1-Trac traction control and ABS.
The extra weight of 50kg adds a tenths to the 0-100km/h time, taking it to 3.4 seconds. Top speed drops from 325km/h to 320km/h being Ferrari's fastest-ever convertible. The hard-top solution offers a number of advantages over the traditional folding soft-top, including a reduction of 25kg in weight and a deployment time of just 14 seconds. Seeing the system live, gives a good idea on the setup and speed of the roof.
Easily visible are the rear buttresses designed to optimize the flow of air and the adjustable electric wind stop enabling normal conversation to be held even at speeds over 200km/h.