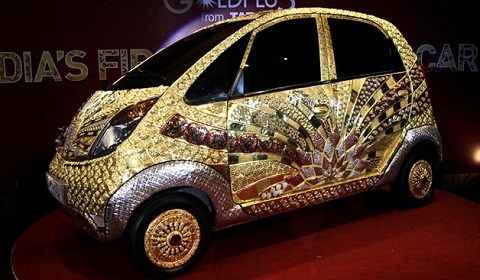 Forget your Bugatti Veyron, if you want the most expensive new car on the planet, Tata is what you should be thinking! Tata recently unveiled the 'GoldPlus' Nano, a special edition variant of the the worlds cheapest car; the Tata Nano.
The one-off showpiece car gets 80kg of 22 carat gold, 15kg of sliver and 10,000 semi-precious and precious stones. Together, $ 3,000 car included, the whole vehicle is worth a staggering $ 4.68m. The car will be used by GoldPlus Jewellery, who's parent company is Titan Industries, which is a Tata Group company. So don't expect to see one on the streets of London or parked at Casino Square in Monaco.
This show car is not entirely representative of the Nano's sales figures though. Having initailly entered production in 2008 with a 100,000-customer waiting list, sales figures for August this year were down to 1,202 units, an 88 per cent decrease from April's 10,012 units. Tata's plan to revieve sales of the Nano include opening exclusive Nano-only dealerships throughout India. The company need to sell between 15,000 and 20,000 Nano's a year to make production worthwhile.
It seems that diminished sales are not the only thing that Tata need to address either. It's been reported recently that customers are being put off by the Nano's habit of spontaneously erupting into flames.
With the commodities prices souring these days, Tata have probably made a worthwhile investment with the GoldPlus. At the moment, it can only appreciate!
[Via FT]