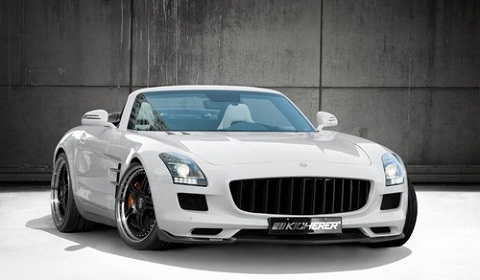 Kicherer have released photoshop images of their planned kit for the SLS AMG Roadster, when the car finally hits the roads later this year. It closely resembles what they have already released for the hardtop version. There will be a power increase as well as cosmetic changes to give an attractive looking soft-top.
Visually, the car benefits from a new front grille giving the car a distinctive look. They've also given it a new front spoiler and rear diffuser as well as a set of larger five-spoke Kicherer RS-1 forged wheels. Expect stainless steel sports end pipe covers to be made available as well as carbon isents for the interior.
The roadster comes with an extra 20hp, with a 650hp total and over 700nm of torque. This is means 0 to 100 km/h in 3.5 seconds and a top speed of 320km/h. We'll bring you more images and details of the car when Kicherer get around to releasing them!