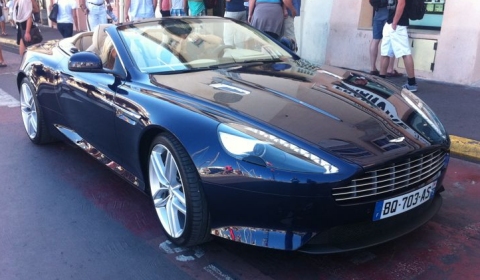 Our chief editor is in supercar heaven. St. Tropez offers the best possible sports cars on display in the French Riviera. This afternoon he spotted an Aston Martin Virage Volante, one of the first produced by the British sports car maker.
The Virage Volante was officially introduced at the Geneva Motor Show 2011 in March. The Virage is positioned between the DB9 and DBS and unites the technology from the DBS with the comfort and refinement found in the DB9 and Rapide.
It is powered by a front mid-mounted 6.0 liter V12 engine which is hand-built. This engine produces 490bhp and 490bhp and 570Nm of torque. The Virage was delivered with Carbon Ceramic Matrix (CCM) brakes. A new aluminium metal front grille, inspired by the One-77, features five horizontal vanes which are chamfered creating an aerofoil profile.