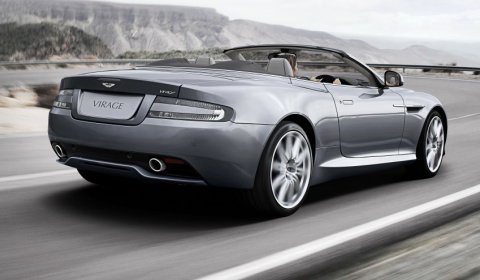 Following some initial live pictures made at a release event we can now give you the official information regarding the Aston Martin Virage. The Virage sits between the DB9 and DBS and comes with a front mid-mounted V12 engine.
Aston Martin's hand-built 6.0 liter V12 engine produces 490bhp and 570Nm of torque and through its carbon fiber prop shaft, is mated to a six-speed Touchtronic II automatic transmission mounted on the transaxle contributing to 50:50 weight balance. A newly developed Adaptive Damping System (ADS) intelligently 'reads' the road to provide the appropriate road holding, adapting to different conditions. The system now selects up to five different stiffness settings within normal mode, and a further five stiffer settings within sport mode.
The Virage capitalises on the technology from the DBS and unites it with the comfort and refinement found in the DB9 and Rapide, according to the car maker. A 'Sport' button on the facia allows the driver to select a sharper throttle response and faster gear changes while also holding the gears without automatically shifting up at the revolution limiter.
A new aluminium metal front grille, inspired by the One-77, features five horizontal vanes which are chamfered creating an aerofoil profile. The Virage will be delivered with Carbon Ceramic Matrix (CCM) brakes as standard.
The new integrated Satellite Navigation system has been developed in conjunction with Garmin. The new system simplifies operation through the existing four-way joystick mounted on the facia. A new 6.5 inch high resolution display uses the latest graphics and maps to visually and aurally guide the driver to their destination.
The Virage and Virage Volante are on sale now, available from Aston Martin's global dealership network spanning 132 dealerships in 41 countries. Pricing for the new Virage will be confirmed at the Geneva Motor Show.
2012 Aston Martin Virage Coupe
2012 Aston Martin Virage Volante