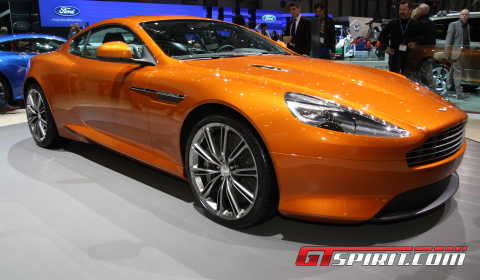 After the releasing pictures and information, the British carmaker Aston Martin has officially presented the Virage at the Geneva Motor Show today. The Virage is available as coupe and cabriolet, named the Volante.
The Aston Martin Virage positioned between the DB9 and DBS and unites the technology from the DBS with the comfort and refinement found in the DB9 and Rapide.
The Virage is powered via a front mid-mounted 6.0 liter V12 engine which is hand-built. This engine produces 490bhp and 490bhp and 570Nm of torque. The Virage will be delivered with Carbon Ceramic Matrix (CCM) brakes as standard.
The Virage and Virage Volante are already on sale, available from Aston Martin's global dealership network spanning 132 dealerships in 41 countries.
The gallery below shows the Virage displayed at the Geneva Motor Show stand. Feel free to share your thoughts now you have seen the live pictures.