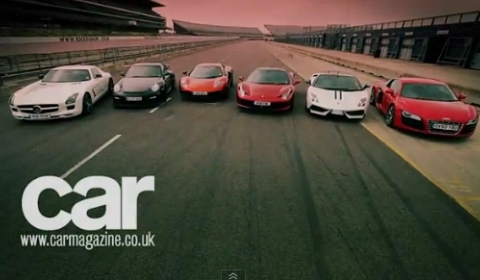 CAR Magazine has pitched the new McLaren MP4-12C against its rivals, the Ferrari 458 Italia, Porsche 911 GT2 RS, Lamborghini Gallardo Performante, Audi R8 V10 and Mercedes SLS AMG.
The CAR team used Rockingham race circuit so Le Mans driver formerly known as the Stig, Ben Collins could lap each sports car against the clock. At the end of three days testing they picked their winner, the very best supercar on sale today.
The full story is available in the new July 2011 issue of CAR, but the Brits will also release more footage and info over the upcoming days.
Two videos have initially been released, showing the SLS AMG and Audi R8 V10 lapping the circuit. Check out the timed laps in the hands of ex-Stig Ben Collins at Rockingham via the onboard videos below.
Mercedes-Benz SLS AMG laptime: 1min 33.01sec

Audi R8 V10 laptime: 1min 31.06sec

Lamborghini Gallardo LP570-4 Spyder Performante: 1min 29.92 sec

Every single day we will add one more video until the full film is released on the 22th of June. First new footage is the 911 GT2 RS lapping the track. Stay tuned for more!
Porsche 911 GT2 RS: 1min 28.77sec