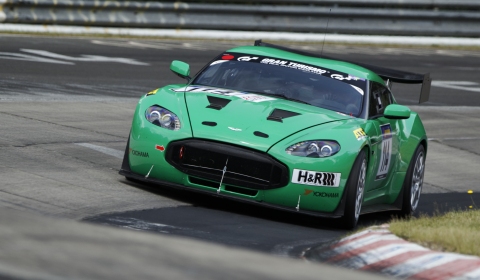 Aston Martin's new V12 Zagato endurance race car concept will return to the Nürburgring this weekend for final preparations ahead of the 24-hour race hosted at the German circuit at the end of the month.
Competing in the 51st ADAC Reinoldus-Langstreckenrennen VLN5 four-hour race on Saturday will be two examples of the V12 Zagato endurance race car which won the Concorso d'Eleganza Design Award for Concept Cars and Prototypes at its first public appearance at the Villa d'Este Concours last month.
This warm-up race – used as a test session ahead of the Nürburgring 24-hour race which takes place between 25th – 26th June – will be the first time two new V12 Zagato race cars have been in action together after one of the pair enjoyed its first running under race conditions at the 53rd ADAC ACAS H&R-Cup VLN race last month. This weekend will be used to refine race setup and allow further driver familiarisation with the new cars on the 'Green Hell'.
Introduced as a modern interpretation of the famous Aston Martin and Zagato collaboration in the 50th anniversary year of the iconic DB4GT Zagato, the V12 Zagato revives a collaboration which has produced some of the most beautiful and sought-after cars in the world. The partnership takes inspiration from the past to create a modern interpretation based on Aston Martin's ultimate performance interpretation of the Vantage range: the V12 Vantage.
The 51st ADAC Reinoldus-Langstreckenrennen VLN5 four-hour race starts at noon Central European Time on Saturday 11th June.