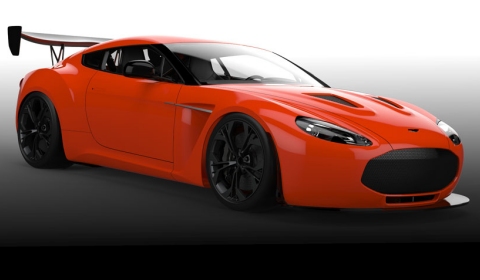 Following the release last week and the showcase at Villa d'Este 2011, Aston Martin has released a preview of the race-spec Aston Martin V12 Zagato. The stunning looking V12 Zagato is preparing for its racing debut at the Nurburgring later this week after winning the Concorso d'Eleganza Design Award for Concept Cars and Prototypes last weekend.
They attached a huge rear wing and tabletop of a front lip. Two sports cars will be make their debut on Saturday at the 53rd ADAC ACAS H&R-Cup VLN race. About a month later, it will return to the Ring to take part in the 24 Hours of Nurburgring on June 25 and 26.
Aston Martin has not released how many vehicles will be build, but we hope that a roadlegal version will be available any time soon. Ulrich Bez, CEO Aston Martin, believes that the Aston Martin V12 Zagato warrants a limited production run:
Based on the reactions of our customers to this race car, we hope to offer a road-homologated V12 Zagato in a small, limited number as soon as possible.