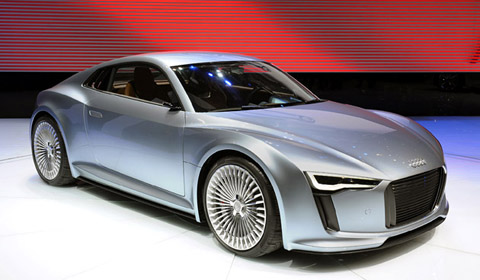 The Audi E-Tron is a series of electric and hybrid concept cars shown by Audi from 2009 onwards. Audi already revealed that the first E-tron will go into production in 2012. And now, Audi of America has announced that this electric car will be available on the American market in early 2013. The price of this full electrical sports car is still unknown.
The first E-tron concept car was unveiled at the 2009 Frankfurt Motor Show. Powered by four motors – two each at the front and rear axles – drive the wheels and making this car a true Quattro. These motors produced a total of 313bhp and 4,500Nm of torque, resulting in an acceleration from 0 to 100km/h in 4.8 seconds and a limited top speed of 250km/h.
The second E-tron concept was presented at the 2010 North American International Auto Show in Detroit. This car was smaller than the one presented in Frankfurt and had only two motors, powering the rear wheels. The power output of this E-tron 201bhp and 2,650Nm of torque. The acceleration from 0 to 100km/h is 5.9 seconds. It is expected that the production version will based on this E-tron.
At the 2010 Paris Motor Show, Audi showed a roadster version of E-tron. This car isn't entirely electrical, but a plug-in hybrid powered by a 296bhp twin-turbo TDI 3.0 liter V6 diesel engine driving the rear wheels, plus two electric motors together producing 86bhp powering the front wheels. Acceleration to 100km/h is achieved in 4.4 seconds.
Also, Audi confirmed that E-tron will become a sub-brand eventually filled with a range of alternative models, just like the BMW i brand. The Audi E-tron will join the league of hybride and electrical sport cars like the BMW i8, Mercedes SLS AMG E-Cell and the Porsche 918 Spyder. Is the end of the petrol powered engines near? Feel free to share your thoughts.