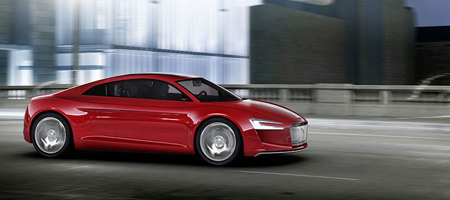 We've already seen BMW's (quite frankly stunning) attempt at an electric sports car, the Vision EfficiencyDynamics Concept and we know that Mercedes has plans for an electric or hybrid drive version of the SLS. Audi are therefore 'keeping up with the Joneses' by releasing their concept for an electric future. The E-Tron is based on the R8 and features a heavy series of modifications to make it look different from any other R8 that we've seen before.
The release of this concept, which will most likely occur tomorrow will most likely divert attention away from the aforementioned German concepts which is what Audi are aiming to do. Audi have been working on this concept for an extended period of time, therefore these leaked shots will come as a small blow for the project.
We'll be interested to see some proper information on the car over the coming days.
[Via WorldCarFans]