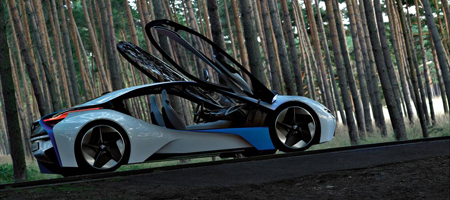 BMW recently released (a lot) of images showing their new Vision EfficiencyDynamics Concept along with a few details. It seems the new concept is intended to prove that a 2+2, hybrid powered sports car is a possibility. As always, it's just a concept but it is said to contain many practical features which will inspire use in production.
With all manufacturers pledging to reduce carbon emissions in the foreseeable future, the difficulty of creating a fun car that also saves the environment has become extremely complicating. The Vision EfficiencyDynamics concept features a hybrid power plant that produces 356bhp and 590lb-ft of torque. It makes use of a small 3 cylinder diesel engine and an electric counterpart running through all four wheels.
0-100kph (62mph) in 4.8 seconds and a top speed of an electronically governed 250kph (155mph) sound reasonable to us. And 75.1mpg (3.76 litres/100 km) sounds just as good. Whats more, this car also features a plug meaning that a whole journey can be covered on just electricity.
If you want to see it then head over to IAA 2009 in just under two weeks! Whilst your waiting check out these photos and videos.