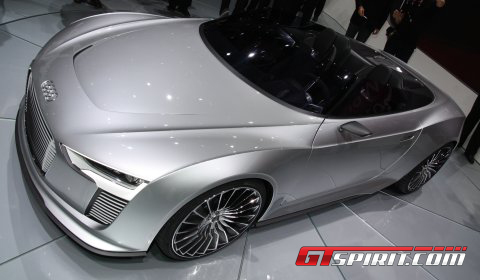 Last night Audi held a private introduction of the Audi Quattro Concept, this morning at the Paris Motor Show 2010 Audi presented the rumoured Audi E-Tron Spyder.
The Audi E-Tron Spyder is a design study for an environmental friendly supercar. The design is very slick and the E-Tron Spyder features the latest in electric and diesel technology. This results in a Spyder that weighs only 1.450kg and does 0-100km/h (62mph) in 4.4 seconds with an average fuel consumption of just 2.2 liter per 100 kilometers.
We just had a chance to take a closer look at the E-Tron Spyder. Here are the first live shots from the Paris Motor Show.