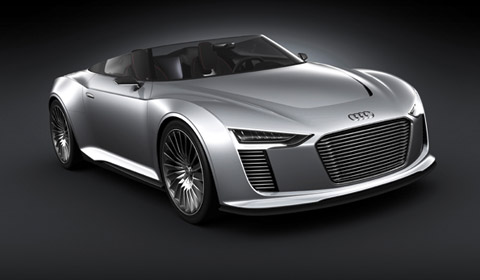 The Audi E-Tron Spyder is based on Audi's E-Tron concept, and is the study of an open sports car. The show car, with plug-in hybrid drive, weighs only 1.450kg and has two electric motors paired with a powerful TDI diesel engine. The car accelerates to 100 km/h in just 4.4 seconds, and has a top speed that is limited at 250 km/h.
Thanks also to its low weight, short wheelbase and perfect 50:50 weight distribution for dynamic handling, the Audi e-tron Spyder has all the drivability of a go-kart – good on bends and neutral right up to the very high handling limit. This may all sound a bit like you've heard it before but what makes this sports car concept really special is it's average fuel consumption of 2.2 liter diesel per 100 kilometers. That way you can do over 1.000 kilometers with a 50 liter tank. Compare that to the 150-odd kilometers you can do with an Audi R8 or Lamborghini and you know where the value is.
The open sports car can also drive strictly on electric power and thus with zero emissions over distances of up to 50 kilometers. The top speed while driving strictly on electric power is limited to 60 km/h though so not that useful outside dense urban areas.
Who believes the Audi E-Tron Spyder concept is just an electric Audi R8 Spyder is wrong. Audi developed a completely new platform for the latest generation E-Tron Coupe and E-Tron Spyder that is significantly more compact than the Audi R8.
Stay tuned for the first live images of the Audi E-Tron Spyder from the Paris Motor Show 2010.