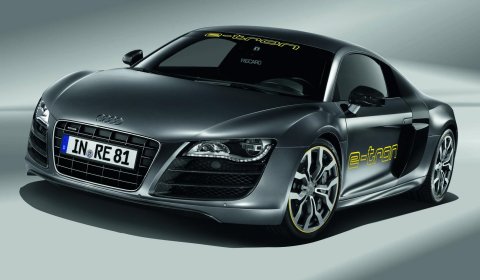 The R8 E-tron was Audi's first ever concept showcasing the future of electric drive. Numerous other E-tron concepts followed in the past few months. Audi has now revealed that the first E-tron will go into production and they plan a launch in late 2012.
Its four engines provide a total power of 313hp (230kW) and 4500 Nm (3319lb-ft) torque at the wheels available from a standstill. The four asynchronous motors – two each on the front and rear axles – make the Audi R8 E-tron a quattro. Power is transmitted to the wheels via the single-staged transmission and short input shafts. It catapults you from 0 to 100km/h (62mph) in just 4.8 seconds.
The large, fluid-cooled lithium-ion battery and the power electronics lie directly behind the passenger compartment. The result is an optimal center of gravity and a load distribution of 42:58 between the front and rear axles – just like the series production R8 with its 5.2 liter FSI.
The Audi R8 e-tron weighs in at just 1600kg (3527lb). The 550kg (1212lb) battery stores 53KWh of energy, with the usable share amounting to 42.4kWh. In the final design stage of the Audi e-tron, the battery will enable a range of about 250km (155 miles).
Audi will be bringing the limited edition of the R8 E-tron to the roads in late 2012. It will be built at quattro GmbH in Neckarsulm. Pricing has not been revealed by the Germans.