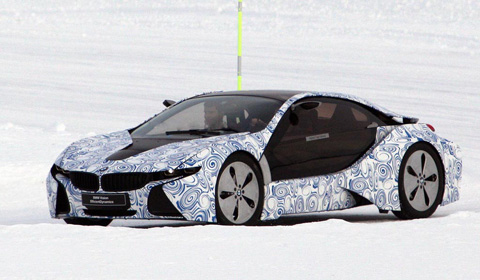 BMW i is a sub-brand of BMW which has been created to commercialize low emission vehicles. The first car of this new brand, the i8 Vision EfficientDynamics was unveiled at the 2009 Frankfurt Motor Show as a concept vehicle designed to maximize the fuel efficiency and minimize the emissions. The BMW i8 Vision EfficientDynamics was spotted in Sweden for winter testing where it is currently undergoing extensive testing.
Despite an average fuel consumption of 3.76 liters/100 kilometers and a CO2 emission rating of 99 grams per kilometer the performance is comparable to the BMW M3. The i8 accelerates from 0 to 100km/h in 4.8 seconds and the top speed is 249km/h. While the concept car was powered by a 1.5 liter turbodiesel in combination with two electrical engines, the i8 will be powered by a three or four-cylinder gasoline engine in conjunction with electric motors.
BMW is preparing to produce the i8 in their Leipzig plant from 2013. The price for this car will be approximately € 240,000, putting this car in the same segment as the upcoming 2013 Mercedes SLS AMG E-cell.
[Via BMW blog]