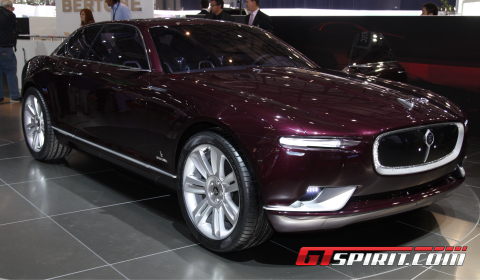 Bertone has released a teaser of their Jaguar B99 Concept a few weeks ago, but today the Italian automobile company officially unveiled the concept study at the Geneva Motor Show. They also showed a racer of the B99 concept.
The name B99 stands for 99 years of heritage. Bertone was founded in 1912 has specialized in car styling, coachbuilding and manufacturing. Bertone is not new to the British manufacturer of luxury cars. In 1967 the Italians designed the Jaguar Pirana. This car was based on the E-Type but was not taken up by Jaguar. It emerged a few years later, in modified form as the Lamborghini Espada. Also the 1977 Jaguar Ascot was designed by Bertone.
The design of the Jaguar B99 refers to the previous version of the Jaguar XJ. This concept gives a first insight at the new entry-level model which could be the successor of the discontinued X-Type. Interesting design details are the rear doors, which are half the size of the front doors and open rearward.